Show yourselves

Or is it just Jacob, Alex and myself? :[ I know Brandon has some records too. ANYONE else?
oh dear, i'll post all my shit tomorrow.
12" & LP's.
7" (not pictured is a Seasick 7")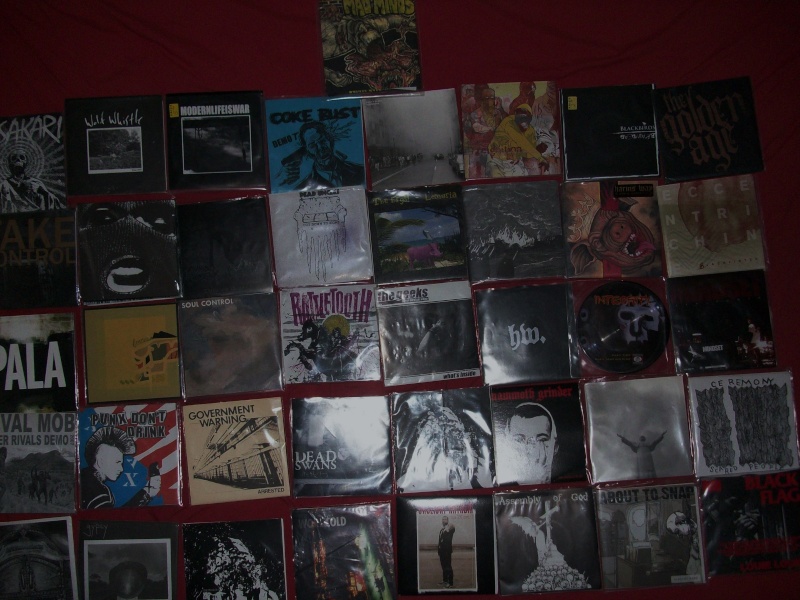 Tapes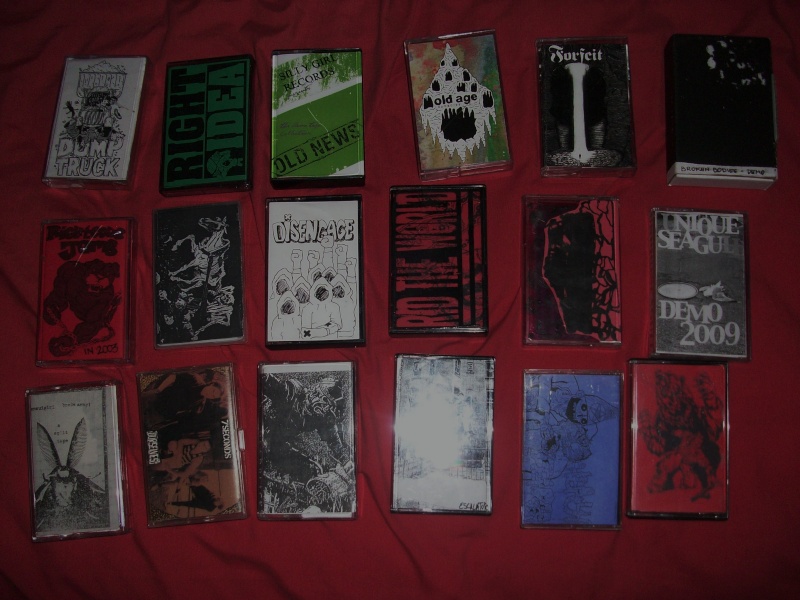 Sorry for the shitty pictures, if you want to know what something is, just ask.
did that disengage come with a download? i've been trying to have a digital copy of that for so long. just out of curiousity, where'd you get that unique seagull tape? i'm not really into them, but i just hadn't seen any of their stuff for sale.



Posts

: 113


Join date

: 2010-05-21


Location

: http://wvhc.activeboard.com/



naw, no download. that Unique Seagull tape Brett picked up at a show at The Brickhouse. I can't remember what show though. I think it was the Cruel Hand/Black Breath show.
Will be posting mine as soon as I get back to 5th ave and stop being sick :[
I need to post my collection. Jeeeez.



Posts

: 14


Join date

: 2010-06-16


Age

: 31



That rules.
Minor Threat Out of Step 1983 Dischord MINT 0.00 White.
Minor Threat First Two 7"s on a 12" 1984 Dischord MINT 0.00 Green.
Jealous.
7" List
Homewrecker-s/t-Blue
Homewrecker-s/t-White
Trash Talk-Walking Disease-Purple/White
Mind Eraser-The Prodigal Son Brings Death-Black
Colin Of Arabia/Product Of Waste split-Boy To Man, Man To Beast-Orange
The Bonus Army-Negative Outlooks-Green
Mad Minds-Can't Take Much More EP-Black
Defeater-Lost Ground-Red/white/Blue
Defeater-Lost Ground-Army Green
Heart Holds True/Smoke & Mirrors split-Latitude/Longitude-Orange
Title Fight-Kingston-Black
Title Fight-The Last Thing You Forget-White
Backtrack-Deal With The devil(UB Pressing)-Orange
Power Trip-Armagedon Blues-Red
Hammer Bro's-Sleep Forever-White/Gray
Hammer Bro's-Sleep Forever-Gray
Hammer Bro's-Sleep Forever-Black
Gravemaker- Home Is Where The Heartache Is-Black
Gravemaker-Demolition-Green
Ceremony-Scared People-White/Black
Ceremony-Ruined-Black
American Nightmare-Demo-Clear
Violent Side-s/t-Black
The Wonder Years-Leavenhouse-Clear w/ illustration on B side
Down To Nothing-Splitting Headache( 2x 7")-Orange/White|Orange/Blue
Down To Nothing-Splitting Headache( 2x 7")-Blue|Black/White
Down To Nothing-Splitting Headache( 2x 7")-Pink/Grey|Orange/Blue
Down To Nothing-All My Sons-Black
Fire & Ice-Gods & Devils(UB Pressing)-Clear/Grey/Red
Fire & Ice-Gods & Devils(UB Pressing V.2)-Clear-Grey/Red
Pound For Pound-Common Crooks-Black
Ruiner-Dead Weight-Clear
Ruiner-Dead Weight-Pink/Blue
Outbreak-Work To Death-Blue
Outbreak-Work To Death-White/Black
Wreak Havoc-s/t-Clear/Red
Dead End Path-s/t(UB Pressing)-Black
Hardside-Welcome To Hell-Black
Hardside-Welcome To Hell-White
Bitter End-s/t-Brown
Bitter End-s/t-White
Bitter End-Mind In Chains-Orange
Dead Swans-It's Starting-Blue
Wolf Whistle-Demo Two & Live WERS Set-Red
Energy-Race The Sun-Purple
Trapped Under Ice-Stay Cold(Alt. Cover)-Black
Trapped Under Ice/Dirty Money split-Black
Bad Seed-s/t-Orange
This Time Next Year-s/t-White
Harms Way-No Gods No Masters(UB Pressing)-Brown/Black
Lamagna-Ceremony-Black
Will post my 12"s tomorrow



Similar topics
---
Permissions in this forum:
You
cannot
reply to topics in this forum